1 bedroom lower
NO PETS! Lease, references and 1-month security required.
Major appliances, water and garbage included. Laundry fa-­
cility available on premises. $650/month plus electric. Avail-­
able NOW. 786-2954
3 bedroom house
Washer/dryer hook-ups, stove and refrigerator. $700/month + utilities. Ref-­
erences/security deposit a must. No pets. (585)584-3488
Lower 1 bedroom apt.
FOR RENT: Lower 1 bedroom apt. in Rossburg, which is sit-­
uated between Portageville and Fillmore. Stove, refrigerator,
washer/dryer on site. Recently remodeled. $450/mo + util-­
ities + security. Call Jay 585-233-4158
ONE BEDROOM APARTMENT
Bathroom & bedroom are upstairs, stove & refrigerator included. $450/
month + utilities, water & garbage included. No pets/no
smoking/no vaping. Security deposit required. 585-437-5577
3 bedroom, 2 bath duplex
hardwood floors, gas fireplace, jacuzzi tub,
washer/dryer hook-up. Security deposit plus references.
$800 plus utilities. 585-558-0110
Upper spacious 1 bedroom
FOR RENT-ROSSBURG (BETWEEN PORTAGEVILLE &
FILLMORE): Upper spacious 1 bedroom apartment. Stove,
refrigerator, lots of storage, washer/dryer on site. $450/
month + utilities + security. Call Jay @ (585)233-4158
LINWOOD ESTATES:
Apartment for rent in Warsaw-Upper 2 bedroom, stove, refrigerator, dishwasher. HEAT
INCLUDED! $720/month plus security deposit. Available
Februart 1st! Call 585-689-0249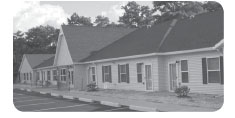 AFFORDABLE SENIOR HOUSING
Looking for Affordable Senior Housing?
Champion Place
33 Tempest St., Perry, New York
• 19 - One Bedroom, First Floor Apartments
• Energy Star Appliances
• Rent Based on 30% of Tenant's Income
• Gas Heat, Hot Water, Water, Sewer, Trash Collection, Stove & Refrigerator Included in Rent. (Tenant Pays Own Electric)
• Laundry Facilities & Mail Delivery within the Building
• Secure Building - Manager On-site
Tenants Must be 62 OR OLDER AND INCOME ELIGIBLE
Applications can be mailed or picked up at
WYOMING COUNTY COMMUNITY ACTION
6470 Rt. 20A, Suite 1 • Perry, NY 14530
Please call 585-237-2600 or 585-237-6601 with questions or for an application.
Available pursuant to the Fair Housing Act's equal opportunity and the accessibility requirements. Section 504 of the Rehabilitation Act.